The exterior of a building is its first impression, the face it presents to the world. Over time, however, dirt, pollutants, and weathering can mar its beauty and diminish its charm. That is where render cleaning comes into play. Unlocking the secrets of stunning exteriors, render cleaning is a transformative process that not only restores a building's aesthetic appeal but also preserves and protects its structural integrity. In this article, we delve into the world of render cleaning, exploring its benefits, methods, and why it is a crucial aspect of property maintenance.
The Art of Render
Render, commonly referred to as stucco in some regions, and is a versatile and popular material used to coat the exteriors of buildings. It not only enhances a structure's appearance but also provides protection against the elements. However, its porous nature makes it susceptible to the accumulation of dirt, algae, mold, and pollutants over time. These unwanted deposits can lead to discoloration, deterioration, and compromise the structural strength of the render. Regular render cleaning is, therefore, essential to maintaining the vitality of a building's façade.
The Benefits of Render Cleaning
Enhanced Aesthetics: The most obvious benefit of render cleaning is the restoration of a building's visual appeal. A thorough cleaning removes unsightly stains and blemishes, revealing the true beauty of the render underneath.
Longevity and Durability: Render cleaning goes beyond aesthetics. It also contributes to the structural integrity and longevity of the building. Removing pollutants and contaminants prevents them from breaking down the render, thus extending its lifespan.
Property Value: A well-maintained exterior significantly boosts a property's value. Regular render cleaning is a cost-effective way to ensure your property remains attractive to potential buyers or tenants.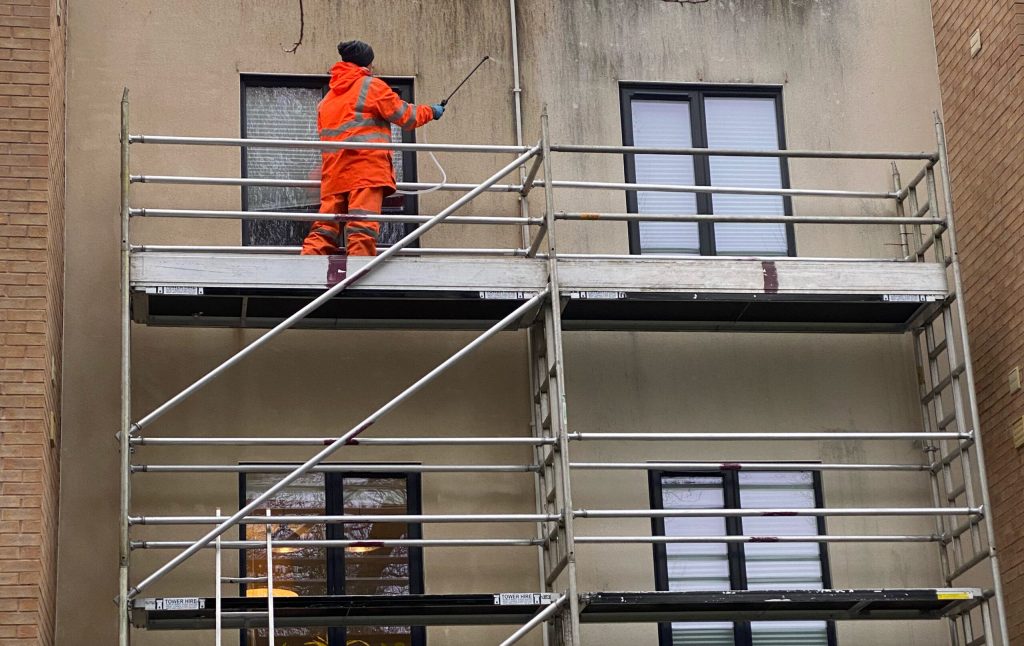 Methods of Render Cleaning
Soft Washing: This gentle method involves the use of low-pressure water and specialized cleaning solutions to remove dirt, algae, and mold without causing damage to the render or underlying structure.
Steam Cleaning: High-temperature steam is directed at the surface, effectively loosening and lifting away dirt and contaminants. Steam cleaning is environmentally friendly, as it reduces the need for chemical cleaners.
Biological Treatment: For more stubborn growths like moss and algae, biological treatments can be applied. These treatments use naturally occurring microorganisms to break down organic matter and prevent regrowth.
Chemical Cleaning: In cases of severe staining, chemical cleaning agents may be employed. It is important to hire professionals for this method to ensure safe and effective application.
Why Professional Render Cleaning Matters
While some homeowners might be tempted to undertake render cleaning them, hiring professionals is the wisest choice. Experienced technicians possess the knowledge, skills, and equipment needed to perform a thorough and safe cleaning job. They can identify the specific needs of the render and tailor their approach accordingly, minimizing the risk of damage. The render cleaning runcorn is a secret weapon for preserving and protecting the stunning exteriors of buildings. As the face of a structure, render plays a crucial role in its overall aesthetics and structural integrity. Regular cleaning not only enhances the building's appearance but also ensures its longevity, durability, and property value.